Craig Rafuse

Promise Land (1996)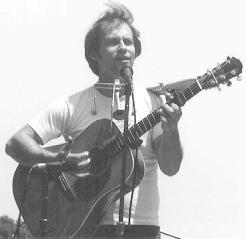 Craig Rafuse is a master carpenter, a musician, and an activist who has been involved in performing music and theater for 50 years. He's wandered through this country and through Europe and the Middle East. He's influenced by Chet Atkins, the Beatles, Phil Ochs, the Grateful Dead, Woody Guthrie, Thelonius Monk, and Pig Iron and the Back Bayou Band, not to mention Bertholt Brecht. He's sung for politicians in the statehouse (powered by hot air) and anti-nuke activists (powered by solar energy). He's especially proud of his involvement with community-oriented musicial efforts such as those of Joyce Brookshire, Amanda Perdrew and Brenda Boozer.
Craig's music is eclectic and incredibly beautiful. Harmonies and accompaniment are rich and varied, showing a jazz influence here, a folk/traditional influence there. Chord changes and rhythms are complex. Space is everywhere, providing delightful opportunities for the listener to catch up and sink in.
In addition to being a fine instrumentalist, Craig writes attention-holding lyrics. By turns, charming, witty, and satirical, his eclecticism takes him from the frustrations of the small businessman to political greed, to youthful waywardness, and to finding time for love and life in a world beset by hurry. The final song on Promise Land, written just after the death of Jerry Garcia, is a heartfelt tribute to one of Craig's favorite musicians.
Contact Craig on Facebook.
Promise Land track list:


 

1. Sweet Sister (lyrics)

2. What it Takes (lyrics)


3. Pastures of Plenty (Woody Guthrie)

4. Trickle Down Rag (lyrics)

5. Just the Other Day I... (lyrics)

6. Wishbone Fever (lyrics)

7. Partners in Sloth (NSFW lyrics)

8. Head Up in the Hills (lyrics)

9. Lite Years (lyrics)

10. If You Care (lyrics)

11. Jerry (lyrics)


All songs by Craig Rafuse except where noted.

Craig performs on vocals, guitars, bass, harmonica, drums, whistle and kazoo.

Appearances by:

Michael Cebulski - percussion

Bill Fleming - pedal steel

Rodger French - drums

Grant Holland - congas

Scott Hooker - vocal, piano

Randy Myers - fretless bass, percussion

Janna Nelson - vocal

Bob Visentin - bass

Ed Witkin - banjo

Copyright © 1996-2022 Mountain Deerfoot Publishing, ASCAP